Pets Imperial® Grey Clarence Chicken Coop
---
Pets Imperial® Grey Clarence Chicken Coop
Features
Dimensions incl nest box:

153cm (W)x 69.5cm (D)x 93cm (H)

Suitable for 1-2 small-sized birds (bantams)
One nesting areas with 2 individual nesting spaces
Two roosting perches inside
Opening nesting area lid for easy egg collection
Pull-out tray/dropping board covered with galvanised metal for easy cleaning
Slidable pop-hole door
Run area with super-tough reinforced wire
Made from animal-friendly treated timber, solid tongue and groove assembly, designed to last for years
Also suitable for other small animals like rabbits, ferrets, guinea pig, quail
Comes flat packed in two boxes, requires assembly, clear instructions
Detailed Information:
The "Clarence" is a small chicken coop that is suitable for 1-2 small chickens (bantams) or other small animals. It has an outstanding build quality and is feature-rich, which makes it a great value for money proposition for those who are looking for a compact chicken coop.
Its approximate dimensions are 153cm (W)x 69.5cm (D)x 93cm (H) including the nesting box overhang.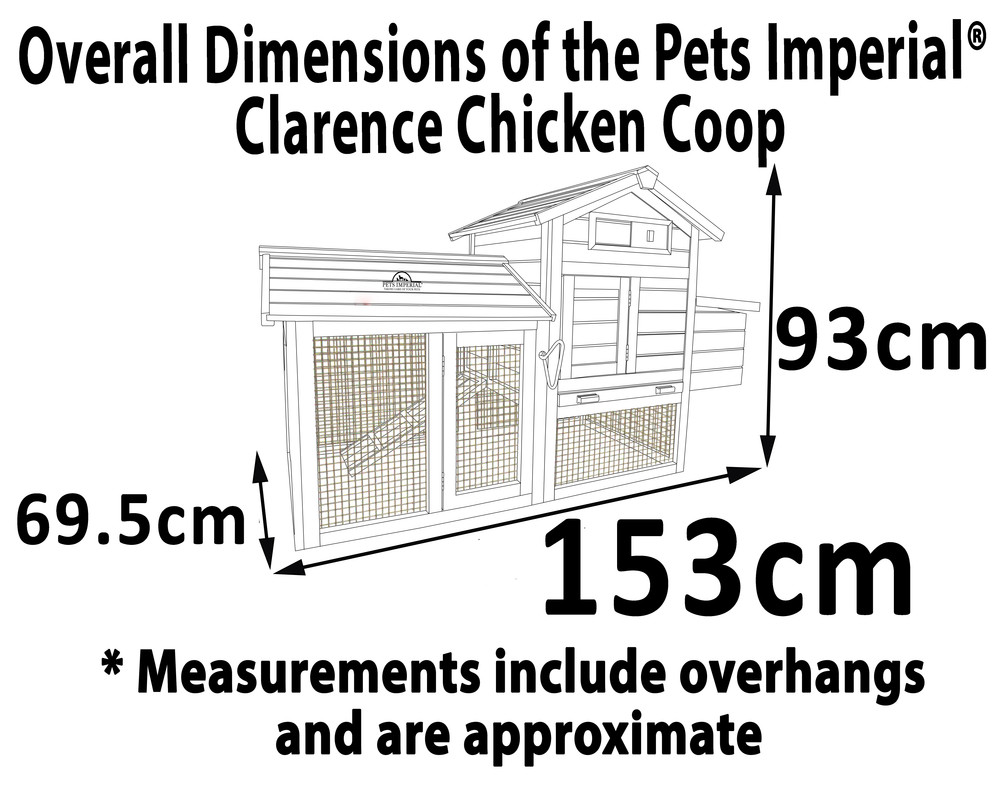 This chicken coop includes an enclosed interior space and a small exterior run area. You will find two roosting perches and a nesting box inside. When the pop-hole is open the birds are free to go into the run area giving them space to move about.
The indoor area is lifted off the ground so that the sleeping area of your birds always remains dry even after heavy rainfall. This elevated design maximises indoor and outdoor space while keeping the overall footprint of the coop very compact. You will also find that this design provides protection from rodents and other pests and suits the chicken's natural instinct to seek a high place to roost.
Locking your chickens in the evening and letting them out in the morning is easy with the built-in hinged handle (corn beef key) connected to the pophole/door. Simply pick up the handle and push it in to close the door – no need to enter the run area to do so. This will keep your chickens safe from predators during the night.
Cleaning and maintenance should be one of your biggest considerations when choosing a chicken coop. This is why all Pets Imperial chicken coops are equipped with a pull-out tray/dropping board covered with galvanised metal. This tray will collect your bird's dropping while they are roosting inside the enclosed compartment. You can easily pull it out, clean it, and insert it back in.
To aid with hygiene and to ensure the health of your birds, we've also hinged the roof and made it easy for you to open. The nesting box has its own roof and that too opens up for easy egg collection and cleaning.
The Clarence Chicken Coop is solidly built using environmentally friendly, hard-wearing wood, that has quality tongue and groove joints. It is a chicken coop that is made to last – it can endure temperature fluctuations and the harsh effects of the outdoors without warping or cracking.
Your coop is flat-packed and should reach you in great shape with no transport defects (always check the package for damage before accepting it). The package includes clear, easy to follow assembly instructions.
Buy now with complete confidence.