Pets Imperial® Grey Warwick Chicken Coop Suitable for up 3/4 Birds Depending On Size
The Warwick Dimensions incl nest box and overhangs: 175 (w) x 66 (d) x 100 (h) cm has been redesigned to further enhance it's outstanding, awesome, fantastic build quality. Now is your chance, to keep chickens in a secure and safe environment in your garden which is easily cleaned, maintained and will last for years. The galvanised pull out metal tray is easy to clean, and can be slid out from the front of the hen house. The roof now opens giving you access to all parts of the coop so you can combat red mite, other parasites and maintain the hygiene of your coop. An asphalt roof, slanted design means that water can drain away easily without build up. The strong asphalt ensures protection from the elements, your Warwick coop stays cooler in the summer and warmer in the winter, therefore keeping your birds happy, healthy and laying!!! This results in a practical and attractive chicken coop. Totally fox proof - reinforced galvanised mesh. Made from animal-friendly treated timber, designed to last for years. 1 Removal perches. Comes flat packed, requires assembly, clear instructions. A front door allowing access to the run. It also has a smaller door with mesh over windows. This door also provides an alternative access point to your bird's housing. Your coop has been ergonomically designed (specifically made) to make the most efficient use of space and light. Your coop with its enclosed run, is suitable for other small animals such as Rabbits, Guinea Pigs, Ferrets, etc, etc, This coop has been designed to keep your pets in and predators out!!!
---
Pets Imperial® Grey Warwick Chicken Coop
Features
Dimensions incl nest box: 175 cm (W) x 66 cm (D) x 100 cm (H)
Suitable for up to 3 small birds (bantams)
One nesting area
One roosting perch inside
Nesting areas with opening lids for easy egg collection
Pull-out tray/dropping board covered with galvanised metal for easy cleaning
Lockable door – totally fox proof
Waterproof asphalt roof
Front ventilation window with wire mesh
Made from animal-friendly treated timber, solid tongue and groove assembly, designed to last for years
Also suitable for other small animals like rabbits, ferrets, fowl, duck, guinea pig, quail
Comes flat packed in two boxes, requires assembly, clear instructions
All parcels will be shipped together but could arrive separately, depending on how the courier organises their daily deliveries
Detailed Information
The redesigned Warwick Chicken Coop is a beautiful all-in-one coop and run solution for up to 3-4 birds depending on size.
The dimensions of the Warwick, including the nesting box and ledges: 175 cm (W) x 66 cm (D) x 100 cm (H).
This chicken coop is also available in classic light-stained wood colour with a green roof - Warwick Chicken Coop. You might also be interested in the Highgrove Chicken Coop, which has the same size and overall shape but is lined with durable plastic and comes in a blue and white colour combination.
Your chickens will be happy to roam around in the run area in any weather, as the extended roof provides shelter from the elements.
With this safe and durable structure in your garden, your chickens will be kept in an environment that is easy to clean and maintain.
Like all of our chicken coops, the Warwick comes with a sliding tray (dropping board) so that you can easily take it out and clean it. This pull-out tray is lined in galvanised metal, which is durable and rust-free.
Another feature that is essential for keeping good hygiene is the opening roof. This design allows you full access to the inside area of the coop to do regular maintenance and to check for red mites and other pests.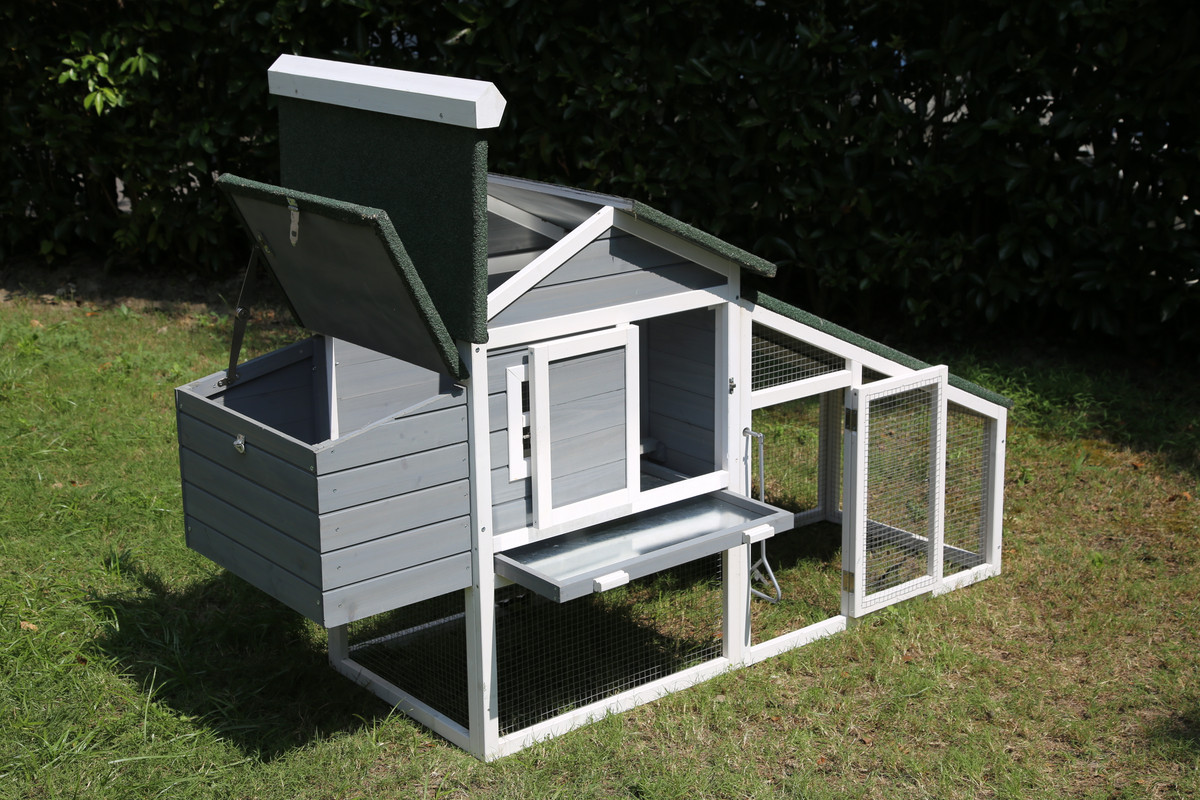 The asphalt roof and sloping construction allow water to run off easily without collecting. The robust asphalt also ensures that the chickens are protected from the weather - it acts as an insulator to keep them warm in winter and cool in summer.
The Warwick chicken coop provides a high-level of protection against foxes and other predators. We've used reinforced galvanised wire, which is extra thick and is solidly attached to the wooden frame. This pen is designed to keep your pets inside and predators outside.
The henhouse has a very large entrance door that allows a human to enter. It also has a smaller door with meshes above the windows. This door also provides alternative access to the henhouse for your birds. Your henhouse has been ergonomically designed especially for your chickens to make the best use of space and light.
The Warwick with its closed structure is also suitable for other small animals like rabbits, guinea pigs, ferrets, etc.
Please note that your coop is supplied flat-packed in TWO packages, which may be delivered separately. The packages come with clear and easy to follow assembly instructions.
Buy now with complete confidence.