Pets Imperial® Large Grey Kingsbourne Chicken Coop Suitable For Up to 4 Birds Depending on Size
SKU
GREY-KINGSBOURNE-COOP
Dimensions including nest box: 183cm (width) x 98cm (height) x 87cm (depth)

Totally fox proof.

Galvanised metal pull-out tray for very easy cleaning. Suitable for up to 4 birds depending on size.

Comes flat packed, requires assembly, clear instructions.

Made from animal friendly treated timber, designed to last for year.
---
Pets Imperial® Grey Kingsbourne Chicken Coop
Features
Dimensions incl nest box: 183 cm (W) x 98 cm (D) x 87 cm (H)
Suitable for 3 to 4 small-sized birds (bantams)
One nesting area with 2 individual nesting spaces
Nesting area lid opens for easy egg collection
Pull-out tray/dropping board covered with galvanised metal for easy cleaning
Push lever sliding hen house door
Front ventilation door with wire mesh
Waterproof asphalt roof
Opening roof for maintenance and hygiene
Run area with super-tough reinforced wire and roof
Made from animal-friendly treated timber, solid tongue and groove assembly, designed to last for years
Also suitable for other small animals like rabbits, ferrets, fowl, duck, guinea pig, quail
Comes flat packed in two boxes, requires assembly, clear instructions
All parcels will be shipped together but could arrive separately, depending on how the courier organises their daily deliveries
Detailed Information
The Kingsbourne Chicken Coop is a small chicken coop with run designed to accommodate from 3 to 4 small-sized birds (bantams). With its unique design, it integrates the run area with the living quarters. The elevated house design maximises internal and external space making the area beneath the main living quarters available for your chickens to roam about in.
Its approximate dimensions are 183 cm (W) x 98 cm (D) x 87 cm (H) including the nesting box overhang.
This coop is built to withstand the test of time. Thanks to the quality of the materials used, and the precise assembly of its components, the structure can withstand high winds, heavy rain, and intense temperature fluctuations without warping or deteriorating. We've used high-quality stained timber with tongue and groove joints so that your coop remains strong for years to come.
Your Kingsbourne Chicken Coop has a number of features that make it unique and stand out as a hen house that is a very good value for money proposition. This compact and well-designed coop has a waterproof asphalt roof, which is extended over the run area, super-strong reinforced galvanised wire that protects from predators, and a cosy interior with nesting and roosting areas.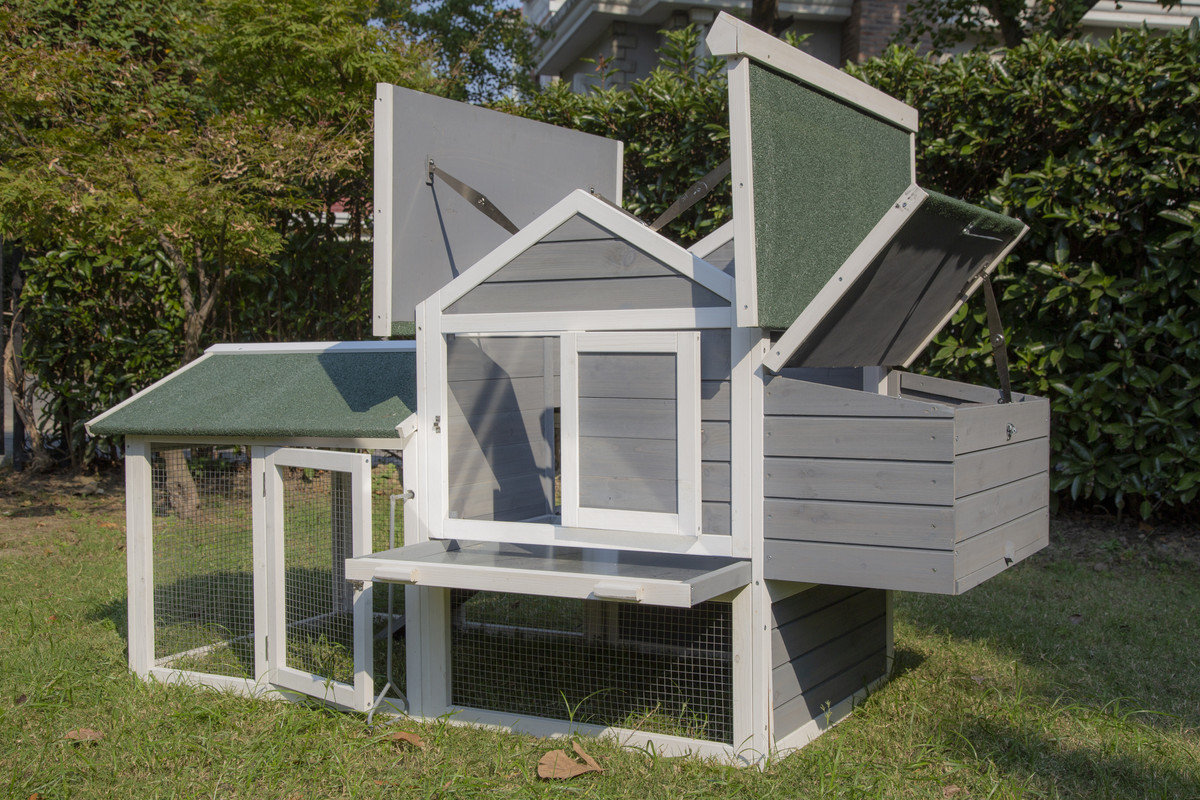 This coop also includes suitable ventilation for your birds. There is a window with mesh wire positioned up high so that your hens won't get directly in the draft, thus creating a comfortable environment for them, while still allowing them to keep warm even when cold outside. The sliding door allows for adjustment and closing it altogether if the weather gets too windy.
Locking your chickens in the evening and letting them out in the morning is easy with the built-in hinged handle (corn beef key) connected to the pophole/door. Simply pick up the handle and push it in to close the sliding door – no need to enter the run area to do so. This will keep your chickens safe during the night.
We've also thought about cleaning and maintenance – something that should be on the top of your list when purchasing a chicken coop. The Kingsbourne comes with a pull-out tray/dropping board which is lined with a sheet of galvanised metal. It is intended to collect your bird's droppings while they are roosting inside. Simply pull out the tray, clean it off and insert it back in.
Every now and then, the coop will require more thorough cleaning or treating against parasites. We've made sure that this is as easy as possible by fitting it with many opening parts – the roof, the nesting box, the main living quarters, the run (please see images of opening parts). You have full access to all parts of the coop.
The Kingsbourne Chicken Coop has a pitched gable roof design with an asphalt layer on top, making it fully waterproof and ensuring your birds remain dry. This aesthetically appealing green asphalt roof also protects the wood structure from rainwater, thus increasing its longevity.
Your coop is supplied flat-packed and should reach you in great shape with no transport defects (always check the package for damage before accepting it). Please note that the Kingsbourne Chicken Coop comes in TWO packages which may be delivered separately. The packages include clear, easy to follow assembly instructions.
Buy now with complete confidence.